About
AIS Airlines is a Dutch regional airline based in Lelystad Airport, the Netherlands. The airline started in 2009 and currently operates several routes across Europe.
With a fleet of 8 Jetstream 32 aircraft, we provide efficient and smooth travel experience. All our passengers can enjoy complimentary refreshments including tea, coffee and snacks on board.
Our strength lies in our on board service and optimized business day-return schedules ideally for passengers conducting business and return same day.
On request, AIS Airlines is also available for charter requests.
Destinations & Routes
Besides charters we also fly to the routes:
Esbjerg – Stavanger – 6 days a week
Karup – Copenhagen – 5 days a week
Esbjerg Airport – (EBJ)
From Esbjerg airport we fly Monday, Tuesday, Wednesday, Thursday, Friday and Sunday.
The airport is just 15 minutes from Esbjerg city centre with direct access to the motorway. Esbjerg Airport has three direct routes to Aberdeen, Humberside and Stavanger and is the base for four helicopter companies serving oil and gas platforms and offshore wind farms in the North Sea.
Midtjyllands Airport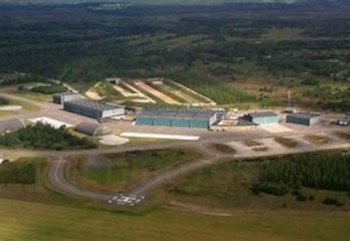 Midtjyllands Airport (Danish: Midtjyllands Lufthavn) (IATA: KRP, ICAO: EKKA), formerly known as Karup Airport, is an airport in Denmark. The airport is situated 3 km west of the town of Karup and carries passengers primarily from nine municipalities in mid- and west Jutland that also own the airport. Air Base Karup, the primary base of the Royal Danish Air Force, is situated within the airport.
The airport is based on a military airfield constructed during the German occupation in 1940. After the war, the Royal Danish Air Force took control of the field which is still its main base.
At the request of some middle- and west-Jutland politicians, the airport was opened on 1 November 1965 when the first direct connection between Karup and Copenhagen was opened. In 1968 the airport's first terminal was built. Until then, it had rented premises at the airbase.
Airport ownership consisted of Viborg and Ringkjøbing county council districts and the municipalities of Herning, Holstebro, Viborg, Skive, Ikast, Karup, Struer, Ringkøbing, Lemvig, and Skjern.
The Air Base Karup is home to several wings of the Royal Danish Air Force, including the helicopter wings, the flying school, the air control wing and several fighter wings.
source: wikipedia
Copenhagen Airport, Kastrup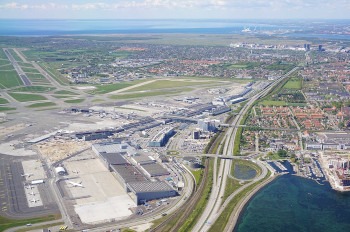 Copenhagen Airport, Kastrup (Danish: Københavns Lufthavn,Kastrup, pronounced [kʰøpm̩ˈhɑwns ˈlɔftˌhɑwˀn ˈkʰæˌstʁɔp]; IATA: CPH, ICAO: EKCH) is an international airport serving Copenhagen, Denmark, Zealand, the Øresund Region, and southern Sweden including Scania. It is the largest airport in the Nordic countries.
As of 2019, the airport was the largest airport in the Nordic countries with close to 30.3 million passengers. It is one of the oldest international airports in Europe, the fourth-busiest airport in Northern Europe, and the busiest for international travel in Scandinavia.
The airport is on the island of Amager, 8 kilometres (5 miles) south of Copenhagen city centre, and 24 km (15 mi) west of Malmö city centre, to which it is connected by the Øresund Bridge. The airport covers an area of 11.8 km2 (4.6 sq mi). Most of the airport is in the municipality of Tårnby, with a small part in the city of Dragør.
The airport is the main hub out of three used by Scandinavian Airlines and is also an operating base for AIS Airlines; Sunclass Airlines and Norwegian Air Shuttle. Copenhagen Airport handles around 60 scheduled airlines, and has a maximum operation capability of 83 operations/hour, and a total of 108 jet bridges and remote parking stands. Unlike other Scandinavian airports, most of the airport's passengers are international. In 2015, 6.1% of passengers travelled to and from other Danish airports, 83.5% to/from other European airports, and 10.4% were intercontinental passengers. The airport is owned by Københavns Lufthavne, which also operates Roskilde Airport. The airport employs 1,700 people (not including employees in shops, restaurants, etc.).
Copenhagen Airport was originally called Kastrup Airport, after the small town of Kastrup, now part of the Tårnby municipality. The formal name is still Copenhagen Airport, Kastrup, to distinguish it from Roskilde Airport.
source: wikipedia